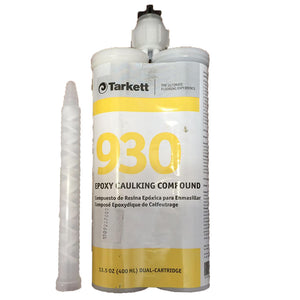 Tarkett 930 Epoxy Caulking Compound 13.5 Oz (400 ml) Dual-Cartridge
Brand:
Tarkett
SKU: 930-L
UPC: 644288565796
Regular price $69.99 Sale
Product Features:
•Recommended for Rubber and Vinyl Stair Treads, and Vinyl Stair Nosing.
•Color: Part A Beige. Part B White.
•Consistency: Medium Paste.
•Contains no hazardous or carcinogenic ingredients as defined by OSHA chemicals.
•Contributes to LEED Certification (E.Q. 4.1: Low-Emitting Materials: Caulks and Sealants).
Two-part epoxy compound for repairing cracks, holes, depressions, worn and broken edges on wood, concrete, or metal steps, providing uniform support for treads and nosings. Available in a handy, time-saving dual-cartridge applicator.
Technical Data Sheet