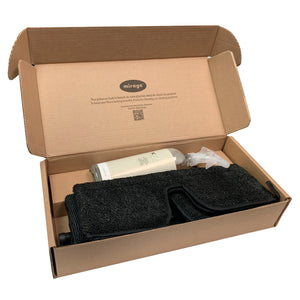 KLEAN by Mirage Hardwood Floor Cleaning Kit
Brand:
Mirage Floors
SKU: MIR56072-L
UPC: 692031560723
Regular price $69.99 Sale
Product Features:
•All-in-one cleaning kit
•Environmentally friendly formula
•Leaves no marks or residue
•Made with high-quality materials
•Safe for regular/everyday use
The KLEAN by Mirage Cleaning Kit is an all-in-one solution for safe, everyday cleaning of hardwood floors. KLEAN by mirage Hardwood Floor Cleaner - 1 Litre (33.8 FL Oz.) One (1) litre (33.8 oz.) of specially formulated cleaning solution with fewer additives to clear everyday dirt on glossy and matte hardwood floors. This bio-based cleaning product washes without damaging the finish, leaving your flooring refreshed. Requires no rinsing, eliminates film of old detergents, prevents streaking, and dries without spotting. Guaranteed to contain no phosphates, no EDTA, and no MIT preservatives, KLEAN by mirage Hardwood Floor Cleaner is environmentally friendly and safe for people and pets. Ultra-resistant mop Quality-constructed mop with a durable handle and shockproof plastic. The swivel head provides good manoeuvrability around bulky and low-lying furniture to make mopping a breeze! The handle comes in 3 pieces for easy storage. 2 reusable microfiber mop covers The microfibers boast excellent electrostatic properties to efficiently trap and hold dust and pet hairs and dislodge dirt. The ultra-absorbent material effectively removes moisture from the hardwood surface, protecting your floors from excess water. The soft texture provides robust scrubbing power without abrasion. Suitable for dry and wet mopping. Double-sided for cleaning and drying efficiency. Designed to fit tightly on the mop head for better stability. Machine washable and reusable up to 300 times.