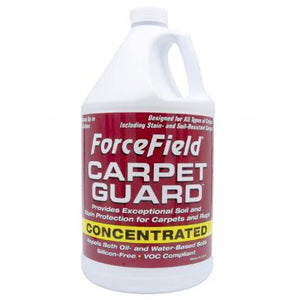 ForceField Carpet Guard Concentrated 1 gallon
Brand:
ForceField
SKU: F CGC G01C-L
UPC: 609052221281
Regular price $77.04 Sale
Product Features:
•Use on Carpets and Upholstery. Excellent Oil, Water, and Alcohol Repellency.
•Provides Exceptional Soil Resistance. Imparts Stain and Soil Release Performance.
•Readily Dilutes in Water.
•Meets All VOC Regulations.
•Concentrate (Makes up to 5 gallons). Coverage 400-600 Sq Ft per Diluted Gallon.
ForceField Carpet Guard is designed to protect carpet and upholstery from oil – and water–based stains and soiling. ForceField Carpet Guard is a partially fluorinated polymer designed for aftermarket, ambient cure applications, and provides exceptional oil, alcohol, and water repellency, as well as excellent dry soil resistance and soil release. This cationic fluorochemical can be co-applied with other materials such as stain-resist, antistats, and ultraviolet light absorbers. ForceField Carpet Guard allows you to use one product on both carpet and upholstery.
Technical Data Sheet